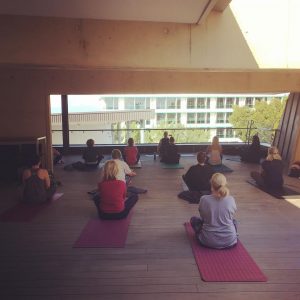 Do you live or work in the Caboolture CBD area? Want to move your body and clear the stress from the week without eating into your time before or after work?
We currently have a subsidy available for this session from the Moreton Bay Regional Council from August 2019. The class will only cost you $4 per session ($40 for 10 weeks) and the council pays the rest. How does it get better than that?
  Get the most out of your yoga, create a consistent weekly class habit for a temporarily reduced cost.
This gentle yoga with a dash of pilates session is perfect for beginners and people needing a no pressure pace. Fridays are on The Terrace. Top floor of the Hub in Caboolture Town Square. A lofty, breezy covered space overlooking the trees and town square.
First time? You can fill in the health questionnaire    online and then show up wearing your comfy clothes and go!
Subsidised class cost $40 for 10 weeks January.